Here is a picture of me...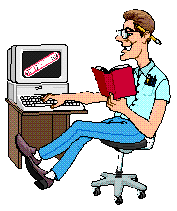 Hi, my name is Robin Dunn, (as if you couldn't tell from the header above... ;-) welcome to my home page. For the most part, this page is just a list of my favorite places on the Web ('cause I had WAY too many bookmarks to manage easily.) This page will be growing over time to tell you a bit about me and my interests, as well as my projects, and my business. Check below for links to these things as I make them available.

Okay, so the picture isn't really me, but it is a pretty good likness, a basic computer geek, and proud of it! If you really want to see a picture of my ugly face, there is one here, and you can read my blog here.